Heather's Summer Reading
Newspoem 18 July 2013
Dear editor,

Your invitation to contribute to this column couldn't have arrived at a more awkward time. Since having a baby six months ago, I must confess, I haven't finished a single book. So I've invited Heather Rose Gillespie to fill in for me about the things she is being read, and looks forward to being read this summer.

—William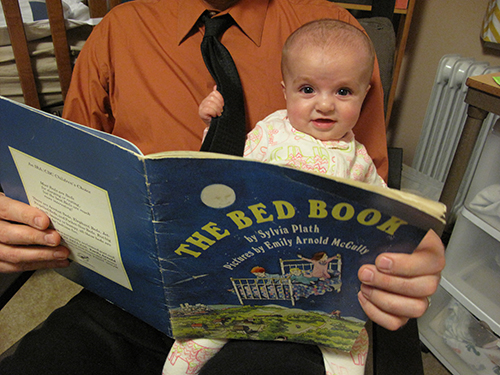 To Dads's credit (I call him "Dads"—it's a baby thing), when he was given the well-intentioned but somewhat overzealous advice to read to me, while I was still in the womb, the same children's book every night, he chose instead to read out loud to me things he himself enjoyed. That was fine with me—it's hard to hear in there, and I got more out of mom's feeling of enjoyment than I would have gotten out of a book targeted at four-year-olds. Plus, Dads has outstanding taste.
The spectacularly childish whimsy, combined with military-dress-uniform tight meter and rhyme of Lewis Carroll's epic "The Hunting of the Snark" and T.S. Eliot's Old Possom's Book of Practical Cats (notably "MacCavity the Mystery Cat") are almost as good as milk. Imagine my delight when, upon being born, and achieving a focal length of a few feet, I got to see the illustrations. Forget "Jabberwocky," even Alice—"The Hunting of the Snark" never gets old, and there are so many illustrators to choose from, from the recent Melville House edition by Mahendra Singh all the way back to the original plates by Henry Holiday, which can never be bested. I can't wait until I learn the letter B, as I will get even more enjoyment out of the poem, whose every character's name starts with B, and which includes an illustration loaded with objects whose names begin with B. And check out that map of the ocean—I totally get it! And dads went all out to get the hardback of Old Possum with Edward Gorey's drawings. I can't wait to read more T.S. Eliot, though Dads has warned me that his other stuff isn't as good, and doesn't have much in the way of kitties. Bah.
Well, now I'm born and can see the words as well as the pictures. But I still like a good beat. Which brings me to another great master of English verse—Teddy Geisel, known as Dr. Seuss, though he wasn't really a professor like you guys. I'm only just starting solid food, and it's one of my favorite topics, so I really dig "Green Eggs and Ham." Did you know that the book has only 50 different words?  Seuss's editor made him a bet that he couldn't write a book using only 50 words, and Seuss won. According to Dads, the editor never paid him for the bet, but the book did well enough that I don't think the doctor got mad. Luckily for us all, he did his own drawings, and they've never tried to replace him or change the old covers of his books to a movie tie-in with a photo of Johnny Depp as the Grinch or whatever. Like Lewis and T., Dr. could also turn a taut line, and knew his way around an iamb!
Moms and Dads are Generation Xers and nostalgia junkies and loaded up my bookshelf with favorites from their own childhood, including the Ramona books with the original Louis Darling illustrations, Little Witch with the illustrations by Lisl Weil, and Dads' own copy, saved by Grandma G., of The Wizard of Oz with the illustrations by William Wallace Denslow. Apparently the Ebay market for tattered old kids books is even more vicious than the one for scratchy old records, so, while I appreciate the trouble they went to to throw down tens of dollars on books that could turn up in a thrift store for a dime, come on, guys, how about some new stuff?! The Ys had Harry, but I don't know who's going to be the defining children's author of Generation Z. With these two dinosaurs in charge, I may never find out. Please email Dads your suggestions.

Newspoetry by William at Spineless Books